Aryslan, Felucca, Chesapeake (PaxLair Times) – December 13, 2010 – by Shef – Hello Sosarians, Elves, and Gargoyles, and any other sentient beings in this realm.The Town of Aryslan will be holding it's first annual Holiday Extravaganza. On December 20, 2010 starting at 8pm EST Aryslan will be opening its festival doors.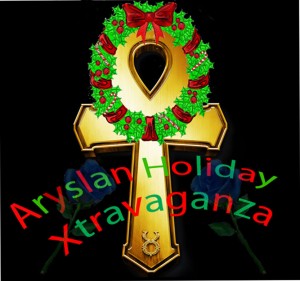 There will be a wide range of games, attractions, and fun for all players. There will be three structures linked for the festival. The Holiday Hall will hold many attractions. Those attractions will include a 3 story maze. This maze is not kids follow the path puzzle. Many twist and turns could lead you right back outside wondering what happened.
Games of chance for those festival attendees hoping to get rich can wager their gold a 1 in 3 odd of winning at the local "Aryslan Lottery Vendor". The dice game "High Low" can be found at a booth upon entering the Festival Hall. This is a game for those die hard gamblers hoping to double to quadruple their gold.
A newish game will be making a appearance at this festival. If you're an adventurer that knows great success comes with great risks then the "Pick Your Box" game is for you. Upon choosing your box, and ready to open it to see what you won beware their maybe a surprise for failure.
Although do not fear the holidays are about fun and family and friendship, perhaps maybe a spark of love at the Mistletoe Auction. Sosarians, Elves, and even Gargoyles can put their hearts and pride on the table at this entertaining event. What you must ask yourself my readers is "Who in this realm is worth the most for a single kiss." We may find out at this event, and maybe even true love maybe found.
Now know what my readers are thinking, "Wait Aryslan is a felucca town!" That's right my friends and what felucca town would not have a PvP tournament. If you're the kind of player who would rather trust his pets in a fight then themselves, then don't fret. Following the PVP tournament will be a pet tournament, no band aids, no heals, just your pet against one of your fellow Sosarian's.
We in Aryslan know some just can't endure attacking one of their peers. For those who wish to enjoy watching the creative fighters and the mighty pets may do so with a full course buffet in a pair of comfortable box seating areas above the battle ground.
Aryslan takes pride in trying new and different things; we have devised another game, one which will allow us to use one of those cursed creatures that plague our beautiful realm. Upon pushing the little creature onto the teleporter the fun begins. So be nice to those orcs, or goblins, or maybe even a troll. You never know when they might be landing on the teleporter you just bet on.
The final attraction of the evening will be a grand prize raffle; from a vendor in the festival hall you can buy chances to win a Tangle. Yes that's right I said a Tangle, it doesn't matter how many are sold it will be given away at the end of the extravagant evening.
We in Aryslan hope you can make it out to our Holiday Xtravaganza, on Monday the 20th starting at 8pm EST.