Cove, Trammel, Chesapeake (PaxLair Times) – May 18, 2015 – by Ashlynn – The goblins of Pitmuck held the third and final leg of the Pitmuck Derby yesterday in the ever serene and peaceful town of Cove. The course was a short one – a short race around the inside of the town finishing at the watchtower that overlooks the bay.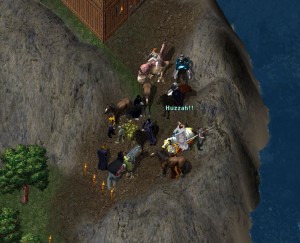 Ten racers atop a variety of steeds participated: Murdock Redbone, Niva, Sparrow, Ivy Covedweller, Victor Speranza, Kailel Moonbow, Falbala, Sweet Touch, Nanoc, and myself.
The results were as follows:
1st Place: Victor Speranza – racing the horse Untapable III
2nd Place: Sweet Touch – racing the horse Ether
3rd Place: Ivy Covedweller – racing the unicorn Starshine
Once again Victor manage to take first place also making him the overall winner across all three legs. His unusual victories make me suspect that there was some foul play involved – perhaps performance enhancing alchemicals or simply a bag of caltrops. During the third race my own horse fell victim to a sharp piece of metal on track.
Was Victor involved? Unfortunately I have no proof. But congratulations on his win!