Pitmuck, Trammel, Chesapeake (PaxLair Times) – August 13, 2014 – by Ashlynn – Icky Rotblossom of Pitmuck appears to be in dire need of tribal berries for some strange and no doubt foul concoction she plans to brew. Whether this is a part of some strange experiment to create an alternative cure for pinworms, or a sinister plot to poison innocent necromancers I can't say. But they are needed – and she is willing to pay.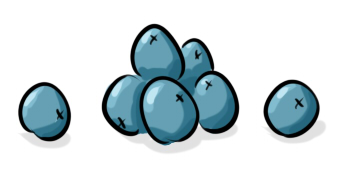 The contest is a simple one and last for two weeks between the 12th and the 23rd of august. Whomever can bring the greatest quantity of tribal berries to the Pitmuck Emporium will win a grand prize of 1 million gold pieces.
There are also runner up prizes of 500,000 gold pieces for second place, and 250,000 pieces for third place.
Good luck to those seeking the reward. Hopefully this is not a part of any sinister plot – you don't want to end up in King Blackthorn's dungeon afterall!