Pitmuck, Trammel, Chesapeake (PaxLair Times) – June 3, 2014 – by Ashlynn – The goblins of Pitmuck are a most curious sort. Regressive in many respects: ill mannered, filthy, rude, uncouth, uneducated, and lacking in any sort of sophistication or taste. And an entire settlement is every bit the unclean, chaotic place you would expect.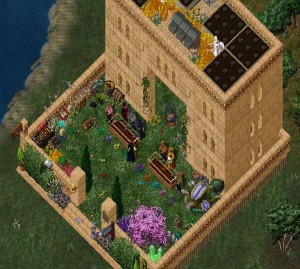 Yet they have a unique cunning that enables them to emulate many aspects of civilized life and the new Emporium is another example of this. Recognizing the wealth and influence that a mercantile empire can bring, the goblins have gone into business on their own.
The Emporium is a messy sandstone structure located just below the town's tavern. Strewn with various goods – much of which could be described as junk – there is still a great deal on offer including many bargains if one wishes to dig deep enough. In amongst the salvaged trash pulled from the sea, I found exquisite bone furniture, old but still legal deeds for trade goods, and even a few artifacts of some power. It would seem a few gems can certainly be found amidst the muck.
While the Emporium might be a rather pungent place and one must always watch their purse, I am sure the savvy merchants and shoppers amongst you will certainly consider it worth a visit – you may save or make yourself a little extra coin.