The Stygian Abyss, Chesapeake (PaxLair Times) – May 4, 2014 – by Ozog – Editor's Note: This write up comes courtesy of Ozog, infamous goblin of Pitmuck island. I did consider rewriting it but decided it best to simply publish it verbatim. The goblins certainly have an interesting way with words.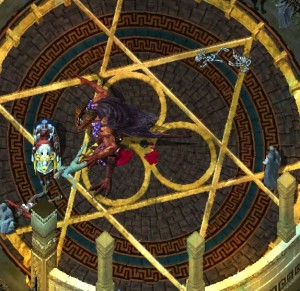 WE WENT, WE SAW, WE CONCORED.
A GROUP OF PAX LAIR ADVENTURES WENT DEEP INTO THE ABYSS. FIRST THEY BEAT MEDUSA, FROM THERE THEY FOLLOWED LAUREN TO THE DREADED STYGIN DRAGON.
THE DROGON PUT UP QUITE A FIGHT, MANY WERE HUNT AND KNOCKED OUT. BUT IN THE END WE PREVAILED.
NEXT WAS THE SLASHER. HE PUT UP A GOOD FIGHT TOO. BUT IN THE END PAXLAIR GROUP WAS TOO MUCH FOR HIM.
PAXLAIR ARE CHAMPS OF THE ABYSS . WE DEFEATED ALL THREE BOSSES, INNA ONE NITE.
Thank you for that report, Ozog.