The PaxLair Press, Chesapeake (PaxLair Times) – December 28, 2013 – by Ashlynn – December has been a busy month for the alliance with a whole host of events taking place both in Sosaria and other worlds. But while story and baking contests keep some of the population entertained, the business of government continues ahead at full speed.
A Mission to Yew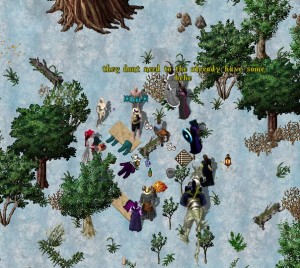 "While much of the realm celebrates the holidays we must not forget those in need." These were the words of Governor Winfield a few weeks ago, words that were soon turned into actions.
Volunteers were called to the Tea House and asked to contribute time, food, and blankets for those made homeless over the past year. The realm has been plagued by rebellion and war over the past year and while some of us are fortunate enough to have escaped most of the ill effects, others have lost homes and even their families.
For our initial endeavour we decided to head to Yew. Word had reached us of a camp on the outskirts of town where a large number of homeless could be found. It didn't take long to get there but curiously, we soon discovered more needy people than first believed. There were infact two camps as well as one family squatting in an abandoned lodge.
We gave what we could – food and blankets mostly – which we hoped would help stave off the winter cold before we headed back to our warmer homes. Well – I live in a ruin personally so I am somewhat familiar with how cold it can get.
This is only the first part of a more comprehensive effort to bring relief to the needy across Britannia and we hope others will support us in these efforts.
Winter Season Governor Election Results
Earlier this month voting took place to determine who would govern the cities of Britannia during the first part of the new year.
Britain: Dark Writter
Minoc: Victor II (NCC)
Moonglow: Lauren
New Magincia: Gareth (EVI)
Skara Brae: Badger (DWxC)
Trinsic: Phoenix (DWxC)
Vesper: Ivy (NCC)
Yew: Tehan (DWxC)
Jhelom had no candidate during the voting period but former Governor Sherry Shar was able to speak with the King in private and in the absence of any competition was able to secure another term in office.
Royal Council Meet at Castle Blackthorn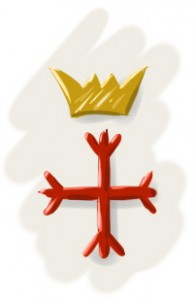 This month's council meeting was a short one as the newly elected governors had their opportunity to treat with the King and introduce themselves. While many present were returning to office, there were a few new faces at the King's table.
Business first turned to the recent turmoil however with the King claiming that in a climatic encounter with the recent invaders the King and his forces used powerful magic to banish the enemy to a dungeon beneath Castle Blackthorn. A wild claim I know but the King stated such straight-faced. Unsurprisingly Lady Minax and her most senior lieutenants managed to escape the encounter.
The rest of the meeting was given over to much we have seen in the past. Construction projects, support from the Crown in matters of defence, and so on. After the meeting was over other citizens present were able to bring any matters directly to the King. Chief amongst these was the "Cove Matter" with the King promising to consider several grievances from the people of Cove.
Bad Santa and the Great Goblin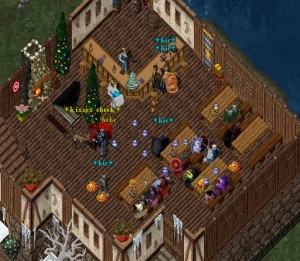 The alliance draws some of the most curious holiday visitors. In the past we have been visited by the frightning visage of festive orc with a temper and a love of bad singing. So it comes as no surprise that this year was no different.
Once again many of us made our way to the Lost Dragon Tavern to join in some festive cheer while we awaited the arrival of our annual guest – in this case a cantankerous old man in a red robe who stank of ale. Month old ale. Slurring his words he had plenty to say as he invited us up one by one and gave us a gift for a trouble.
A few days later we all arrived in Pitmuck to play host to another visitor – the so called Great Goblin – bigger and more ancient than the average specimen, the creature also had a lot to say in an old, cracked, voice. It too had gifts to shower upon a somewhat confused crowd. Thankfully none of it smelled rotten or worse and everyone seemed pleased by the visit despite the venue.
And so another festive season passes. What manner of creature will bless us with their presence next year? Perhaps a jolly christmas ogre lord, or maybe even an eggnog elemental. Who can say!
Tree Lighting Ceremony Held in New Magincia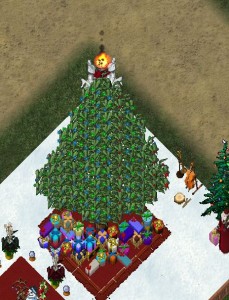 Every holiday season Governor Gareth of New Magincia oversees the construction and lighting of the community tree. Traditionally the ceremony is held in Kijutsu Anei Village but this year it took place in the City of New Magincia.
The ceremony was held on Christmas Eve and the tree – made from dozens of elephant ear plants grown by people from all across Chesapeake – was formally lit by Lady Phoenix and Lord Nanoc of Dragons Watch.
Following the tree lighting there was a great feast prepared by Lady Angelica with food of every kind on offer. And for those hoping for a holiday gift, a magic statue stood nearby to fulfill just such a wish.
Songs of the Winter Solstice
This winter a celebration of word and song was held to help usher in the holiday season. While not a competition as with previous similar events, the format was much the same. People of all walks stood up to tell a tale, recite a poem, or sing a song. And for their efforts each received a gift.
There were plenty of entries and a wide variety of creative prose, all of which will be published in the near future.
The Great Minoc Bake-off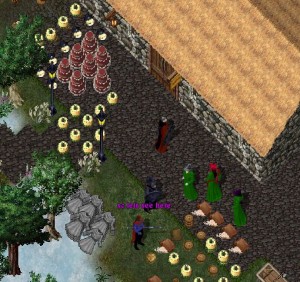 Early this month Governor Victor of Minoc held yet another contest in an effort to find the greatest artisans of Sosaria. This time the focus was firmly on the realm's bakers and cake decorators as the Governor outlined the rules of the contest.
The competition was divided into two parts and the participants were divided into two teams. The red team was led by Nanoc who was assisted by Tehan and Aristacat, while the green team was led by Lazulli who was ably assisted by Phoenix and Crowe.
For the first part of the competition both teams were tasked with baking and constructing a monstrous cake for the holiday season. The second part required that it be eaten.
The red team took for the point for the most well crafted holiday cake… or cookie – a magnificent construction that dwarfed team green's effort. But the green team took the second point as Lady Phoenix quickly devoured the cake leading to an overall draw.
Other Announcements
Joint raid by PaxLair Alliance and EVI alliance planned on the 10th January.