Moonglow, Trammel, Chesapeake (PaxLair Times) – October 12, 2013 – by Ashlynn – For the past five years journalists and scribes from all across Sosaria have met every October to host the Sosarian Journalism Awards – a scribe guild sponsored event that highlights some of the best talent in the industry.
Though many accolades are given out during the ceremony the most valued and sought after award is "Greatest Sosarian Newspaper" and it carries the most prestige in Britannian journalism circles. While awards such as "Grandmaster Typesette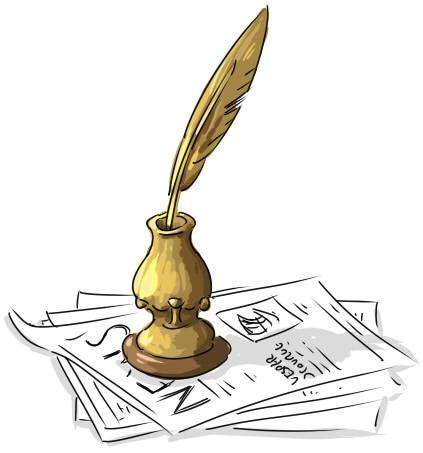 r" are nothing to turn one's nose up at, it is the newspaper award that really draws the crowds.
It should come as no surprise that in four out of five of the previous years the PaxLair Times has scooped this crowning glory reflecting the paper's skilled writing, incredible attention to the facts, and most of all fair and balanced reporting.
This year the event came to the magical City of Moonglow – a place famed as a centre of learning and enlightenment. The crowds were gathered outside of the counselor hall where the awards ceremony was being held, desperately waiting to hear who would leave with the famed golden quill. Despite the hustle and bustle outside, events within were far more formal as Earnest Thurman, guest speaker from the Lyceum read out the shortlist.
The nominees for Greatest Sosarian Newspaper were:
The Haven Herald
The Yew Times
The Vesper Corsair
The Cove Evening Courant
The PaxLair Times
The Ter-Mur Slate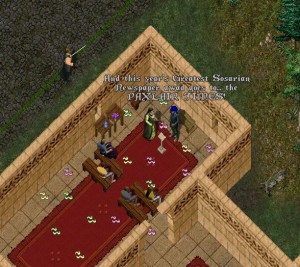 The Pitmuck Poste was mentioned as one of the more eccentric publications the industry had seen but did not make the shortlist, while the Britain Beacon was dropped from this year's nominations due to the scandal surrounding it's involvement with the infamous assassin that plagued the realm some time ago. Interestingly the Vesper Corsair was praised for it's well written and informative articles despite the fact the paper is rumored to cater to Vesper's criminal element.
But it was soon the moment everyone was waiting for. Who would walk away with the greatest trophy in the world of journalism?
Speaker Thurman broke the wax seal on the envelope, took out the parchment inside and excitedly made the announcement:
"This year's Greatest Sosarian Newspaper Award goes to… THE PAXLAIR TIMES!"
And so the Times takes the trophy for the fifth year running, truly proving that we are the only publication citizens of the realm need to read!
I would personally like to thank everyone who believed in our mission enough to nominate and vote for us. I and the rest of the PaxLair Times team are truly flattered and it is moments like these that let us know it is all worth it!