The Stygian Abyss, Ter Mur, Chesapeake (PaxLair Times) – May 28, 2013 – by Nanoc – Dragons Watch/PaxLair Statehood has acquired a new house located deep beneath the realm.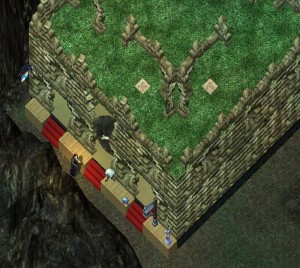 This house stands at the Western entrance of the Abyss and is close to the Silver Sapling tree. It is also close to the Wisp spawn area so characters of low karma should be cautious.
There are at the time of writing four ways to reach this house via teleporter.
The first is from Nanoc's house on Ice Island, Felucca.
The second is from Ozog's house on Pitmuck Island.
The third is from 'Men Only.'
The forth is from the Lord & Tailor House in Luna.
The easiest is to travel to the PaxOku Tea House and use the teleporter to Ozog's house in Pitmuck. From there, walk over to the teleporter with the green rune to reach the Abyss house.
Safe adventures fellow travelers,
– NANOC DWxC, Mayor of Dragons Watch, Ranger of the Abyss, Phoenix's Knight in Shinning Armour, Govenor Winfields Bait Boy, Mach's Eggless Bastage, Ranger of Death Robes (and more titles too numerous to mention).