PaxLair Press, Chesapeake (PaxLair Times) – November 25, 2012 – by Ashlynn – The month of november has been a busy one for some here at the Times as writing endeavours eat up much of our time rather like a ravenous bogthing. However, I suspect that the new king does not intend to introduce BogThing Time (BTT) to account for such busy months any time soon. Perhaps readers could suggest alternatives for the abbreviation BTT for review by the Royal Council and whoever is in charge of royal timekeeping.
Ghost of the Machine
It was discovered recently that while Exodus has been vanquished, his ghost lingers in the realm of the living amongst the crumbling ruins of Ver Lor Reg. Some have speculated that his presence was so great that it left an imprint upon the world of Britannia – a stain if you will. One that can never really be erased.
The Royal Guard sent an expedition to the ruins a few nights past and succeeded in striking down the mechanical apparition. Unfortunately the nature of the spirit means it can never know a final death.
Darts Tournament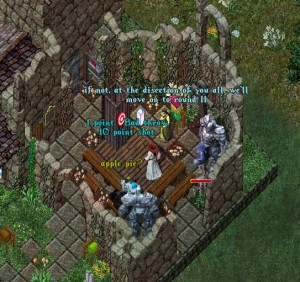 The Winter Banana Darts contest was held yesterday and proved to be something of a hit (more so than some of the contestants who had difficulty hitting anything). The format was more elaborate then most darts contests. As well as prizes for highest and lowest score for an individual round, players also earned tickets during each round depending on their score. Tickets could then be spent at the end of a round to get extra throws or redeem a random prize from the prize boxes.
In all, 18 rounds of darts were played. Lady NyPaige took the high score position with a total of 118 points. Lord Nanoc managed to scoop the Banana Dart trophy with a low low score of 1 point!
Congratulations to everyone who managed to win a prize and I hope to see you all at the next contest! (Which will no doubt include another strange prize system.)
Story Contest Results
The votes are in for the Autumn Story Contest held some weeks ago. In all eight people managed to cast votes, half via personal message due to a few issues with the voting system.
The joint winners are Lady Winmere with her visual story Autumn Falls, and Lady Samara with her tale of Johnny Appleseed.
Prizes will be presented at the next Statehood meeting!
Raid on the Island of the Soulbinder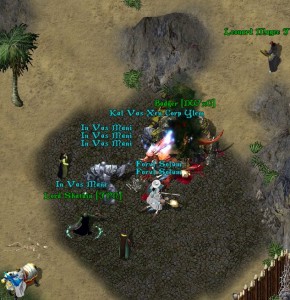 Several nights ago, Dragon's Watch led an expedition to the Island of the Soulbinder. It had been decided that Corgul needed to be relieved of the burdens of all the treasure he had accrued lately and we would be the ones to do it.
We sailed by ship (for none of us can fly and the island has a habit of moving around) and soon reached the tiny isle. We first began by terminating the contracts of those in Corgul's employ before seeking an audience with the Lord of the isle himself. Unfortunately, it seemed as though Corgul was not particularly happy about our interference in his affairs and he immediately attacked.
After dealing with Corgul, the island shook and began to slowly sink into the sea. Curious as to what would happen to those who stayed on the island, I suggested Ozog remain. He did. I believe it was a long swim back to shore.
Also in the news…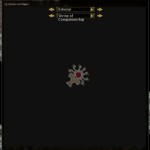 Information sought on the "Shrine of Companionship" that has appeared on some maps found within the realm of Britannia. I have certainly never heard of, or seen such a place.
If anyone has any information about it, please contact Ashlynn or perhaps send in a short article about it. Perhaps we can even launch an expedition of our own to see this place for ourselves.