The PaxLair Press, Chesapeake (PaxLair Times) – September 28, 2012 – by Ashlynn – September has been fairly quiet apart from a brief outbreak of violence at the end of the month. September also marks a milestone in Sosarian history due to the fact that it is still here!
Chaos in Vesper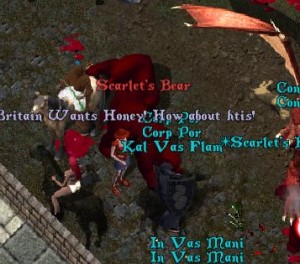 The rioting in Vesper grew particularly vicious this few days past. Though I was late arriving, it appeared there had been an outbreak of violence in Vesper for a variety of grievances, but centered around a Honey Blockade by the nobles of Britain and the desires of Derrick Mornwok to have his estate returned. The task of quelling the unrest therefore fell to the volunteer Royal Guard.
During the skirmishing, both Kendrick Morrow and Scarlet von Trinsic made an appearance, the former summoning water nymphs to bolster the rebel forces, and the later bringing a troop of angry bears with her. As the battle reached it's climax and the tide seemed to be turning against the rebels, Morrow summoned an obsidian drake but even this was not enough and the rebels were crushed in short order.
Scarlet Von Trinsic Arrested, Morrow Dies in Custody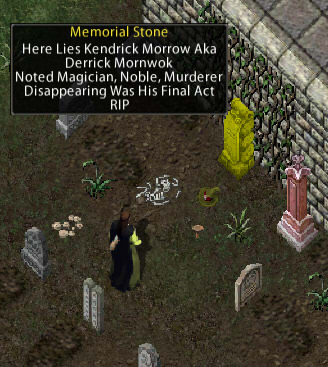 Following the Vesper Rebellion, Scarlet von Trinsic and Kendrick Morrow were both taken into Custody by the guard. The pair were briefly held at the Mornwok Estate where Captain Gwen and Morrow both traded insults and other words. Following the exchange it appeared that Morrow attempted to make some kind of incantation, and not taking any chances, Captain Gwen struck him with a heavy gauntlet – a blow so hard that it killed the man.
A tearful Scarlet was dragged to Trinsic and imprisoned near the west gate and put under heavy guard, though I suspect such bonds will do little to hold her when she finishes mourning and decides to escape.
As for Kendrick Morrow, known also as Derrick Mornwok, his body was quickly buried in Vesper Cemetery with a large stone erected to mark his grave. The epitaph on the stone reads "Here lies Kendrick Morrow, also known as Derrick Mornwok. Noted Magician, Noble, Murderer. Disappearing was his final act. Rest in peace."
Realm Celebrates Existence
Celebrations are taking place this weekend that focus on the continued existence of the realm and those found within other shards of the Gem of Immortality. It is quite a triumph that we have all managed to survive and thrive despite many crises both within and without and I hope we all continue to do so!
And to those present at the celebration, I hope they all have a great time!
Games Mark a Delayed Nidaros Anniversary
Due to illness and other circumstances beyond the control of the organizers, the Nidaros Anniversary celebration was postponed to a later date at the last minute. Instead, the night was spent drinking, talking and playing several rounds of Shut the Box. My luck this time around seemed pretty poor but Governor Winfield managed to shut the box during one round.
Mayor Zanku has stated that a new date will be announced in the near future.
Autumn Story Contest
The Autumn Story Contest will take place at the Shrine of Sobriety at the end of next month on October 27th at 8pm by the eastern clock. The topic is autumn – a pretty wide open category so would be storytellers should be able to come up with something!
Stories are to be read aloud and are judged by 1-3 judges. Due to time constraints, stories should be 5-10 minutes in length.
Good look to all entrants!
In Other News
Rumours suggest Lord Blackthorn met with nobles across the realm to discuss who should succeed Queen Dawn.
An ancient book from a long lost library has surfaced in Moonglow. The current owner is believed to be a man called Leofric.
Ashlynn (that would be me!) is looking for short anecdotes regarding monstrous encounters for the alliance bestiary.