Justice Falls, Trammel, Chesapeake (PaxLair Times) – March 24, 2012 – by Ashlynn – With all the turmoil that has beset the realm in the past months the ceremony that took place yesterday evening was a ray of light against the gloomy backdrop of political crisis. Though a fleet already sails for Trinsic with ill intentions and rioters burn down shoppes and residences, many of us managed to spare some time to witness a little happiness.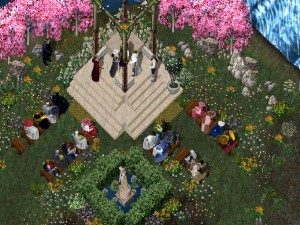 For yesterday evening Lady Phoenix and Lord Nanoc of Dragons Watch renewed their marriage vows to each other on their fifth anniversary. Not only was the ceremony attended by folk from all across the realm but it was also presided over by the gods themselves as Drosselmeyer oversaw the ceremony himself!
After all the guest had arrived, the ceremony began with the central couple repeating the vows they had made five years previous. The ceremony lasted a good while with emotional words from both the couple and Drosselmeyer. Those attending were even given the opportunity to comment on their own opinions of what love meant and a number did. When the ceremony was over we all made our way to a building furnished especially for the reception where gifts were given and everyone celebrated into the night.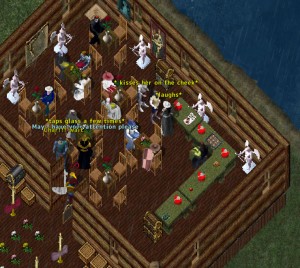 I and the rest of the staff here at the Times wish all the best to the happy couple. I also hope to have a transcript of the ceremony soon so that everyone can read all the formal words of the ceremony for themselves. It is a relief to know that love and happiness can still bloom in these dark and uncertain times.
And hopefully in another five years, we can write of a tenth year anniversary no matter what woes plague the realm at that time!