Lair of the Stygian Dragon, The Abyss, Chesapeake (PaxLair Times) – September 24, 2011 – by Ashlynn – Yesterday evening, Lady Phoenix organised an expedition into the Great Stygian Abyss to hunt down the Stygian Dragon and seize whatever great treasure it may have. We were able to accomplish this feat, but it was not quite as straightforward as we first thought it would be.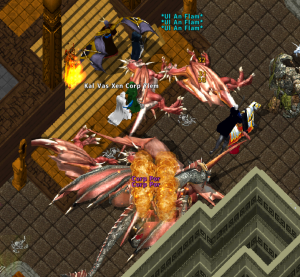 We met at the Tea House in PaxOku where we were joined by a few others who had offered to aid us, and from there we proceded to Zedland, taking the teleporter at the auction house into the abyss. It was a short journey from there to the Stygian Dragon's great temple, but before we could get access to the temple heart, we had to battle the dragon's minions.
The battle with faery dragons, wyverns and dark elves was brief but bloody, with several of us sustaining injuries. But we soon had the orbs we needed to give us access to the centre of the great structure, and after ensuring we were all accounted for, we ventured inside.
Sadly, we lost Lady Phoenix during the jump to the heart of the temple, some kind of strange magicks preventing her from entering, and we were forced to do battle without her aid. The battle was long and difficult and the beast was merciless with both it's claws and spells, but we were eventually able to bring the creature down.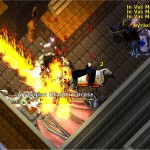 Our rewards for our efforts were somewhat mediocre. The great best had plenty of trinkets but little of true value. Lots of old armour and jewelry, a few gems and old weapons. But little of note. One of our number found an interesting book, while I managed to find a strange red gargish blade.
Our task done, we all returned to the tea house to discuss our adventure before we all began to disperse and return to our homes, a little bruised and weary. Before leaving however, it was suggested that our next venture could take us to confront the wicked Medusa.