New Magincia, Trammel, Chesapeake (PaxLair Times) – September 17, 2011 – by Ashlynn – Located near a beach on the island of New Magincia, a two story brick building stands beside the sea, a few ships anchored nearby. From inside comes the heavy aroma of fish from numerous crates and baskets, and every now and then fisherfolk come and go, dropping off their catch and replacing it with other fish from the stacked boxes.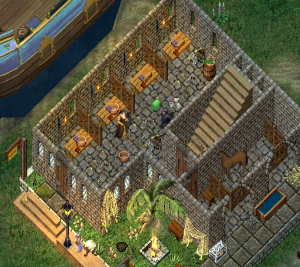 This is the PaxLair Fish Exchange, born of an idea of Lady Phoenix. The idea is simple enough – if you've fish you no longer want, you can drop it off at the exchange and replace it with something that you do find more useful.
Or, more specifically:
There are four categories of fish: Shallow Water, Deep Water, Dungeon Fish and Crustaceans. All exchanges are 1:1. You may take any number of fish, but you must replace them with an equal amount of fish from the SAME category.
The exchange operates on the honour principle, but I am told that all fisherfolk are honourable. And fair. And win things… such as boat races. And they teach villagers how to fish and give out potent fishing scrolls and such, or so Lady Phoenix tells me!
The structure itself was designed by Savaric (yes, the lich) and he is also responsible for much of the decoration. I am informed that fishing vendors are the next thing that will be introduced to the fish exchange too.
Anyone who is interested in being a part of the exchange should contact Lady Phoenix through the big alliance comm crystal or some similar arcane device.