Underground, The Lost Lands, Trammel, Chesapeake (PaxLair Times) – September 5, 2011 – by Ashlynn – Over the past few days, members of the alliance (and a few others who also joined in to help) have been hard at work following the clues of one Marcus Tokinson in an effort to locate something of great importance, something he clearly went out of his way to hide well. An artifact of great power!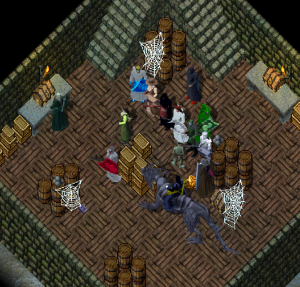 This report will be intentionally vague should any wish the challenge of following the clues themselves without knowing exactly what to do and where to go.
After following the directions of several maps and recovering a number of old diaries belonging to Tokinson, we began to look through the journals in an attempt to discern where to go from the clues. Our journey took us across all of Britannia and the Lost Lands too, as we sought those in the realm who might shed some light on where this treasure may be hidden.
Eventually, we acquired what we learned were co-ordinates but initial attempts to match them to locations proved unsuccessful and even produced a red herring – an X beside the road that was simply coincidence. Those more familiar with longitude and latitude and the use of a sextant however, were quick to advise us on other possibilities. But the hour grew late and many of us began to disperse for the evening.
Our efforts the following day were more fruitful however and it wasn't long before a ship was dispatched to a lonely island where wyverns and dragons walked. In the base of a rocky mountain, we found a heavy set of iron doors, covered in vines and magically sealed it seemed. We also found several items with various engravings on the islands and a mossy covered journal on exotic fauna.
We spent a good while trying to figure out what this meant. It was eventually agreed that there was probably some kind of command word that needed to be spoken, and that we needed to put together what we had discovered so far. As we went over what we knew, it seemed Lady Winmere had something of an epiphany and spoke a cantrip that instantly allowed her entry.
Once inside, we all celebrated and began to pick through the masses of crates, chests and barrels. We found numerous items but no great artifacts or shirts of note. We did find a copy of another journal by Tokinson which suggested he didn't wish to leave it in the dark stone room beneath the island, and that it had been returned to where it was originally found, which I believe is beneath the waves.
But such an expedition under the sea would have to wait for another day.