Chesapeake (PaxLair Times) – May 16, 2011 – by Ashlynn – Being a monstrous, shambling, mountain of plant matter with vicious clawed arms and an enormous maw. The creature appears to possess no sight organs yet has no difficulty sensing the whereabouts of its prey. It has been speculated that the vile creature believes itself a king of the plant world as smaller humanoid shrub creatures attend to it in the manner of a bizarre travelling court.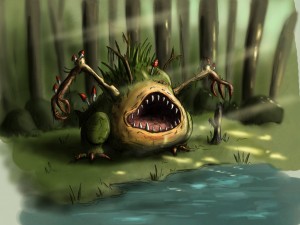 The Fens of the Dead
Long ago, I once owned property on the edge of the fens north of Trinsic, upon the site where Paws is believed to be buried. Indeed, my home was built of old stones and it would not surprise me if some of those were from that long lost village. The denizens of the murky waters around my residence consisted of alligators, serpents and of course, Bog Things. Their numbers grew the deeper into the fen one travelled and it was not unknown for some of these enormous beasts to wander west and claw at the walls of my old home. While vulnerable to fire magics, amongst other things, it seemed the creatures had no qualms about consuming their smaller minions to restore their own vitality. I often had to expend considerable effort in ridding myself of the loathsome things.