On March 31st, 2007, the PaxLair Community celebrated the binding of two of its most prominent citizens. Mayor NANOC and Vice-Mayor Phoenix, both of Dragon's Watch, solidified their love by joining in matrimony. The Wedding was held on the Northern Altar of Maginicia, Trammel, and was witnessed by well over 20 citizens of the Chesapeake Shard.
Despite rumors of an invasion of little Neo of Lothlore off springs (Neolytes, as they like to be called) the wedding went off without a hitch as well as the following Wedding party which was gathered at the Hall to the west.
Congratulations NANOC and Phoenix, and bright futures to you from everyone!!
See some pictures and the personalized wedding vows by clicking below to "read more"
NANOC to Phoenix: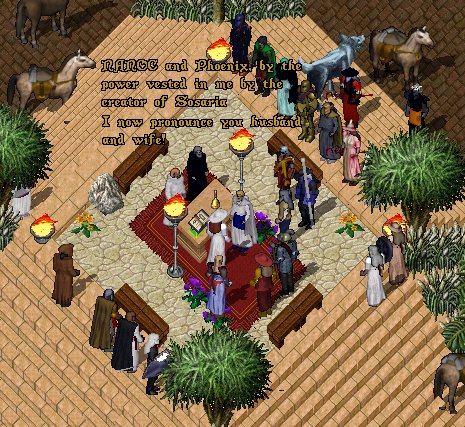 Nanoc And Phoenix Wedding, March 31st, 2007

Hello Phoenix,
I offer you not the "summer of my life" but the autumn, brisk and vibrant.
I promise to be a worthy Husband of your precious devotion.
I pledge you compassion in good times and bad; encouragement in sickness and health.
It is my intent that our life together include our large circle of friends and families.
We'll cherish the memories of our individual pasts; and create our new life as we go now together
Phoenix to NANOC:
You are not the air that I breathe,
You are the sweet scent that drifts upon it

You are not the sounds that I hear,
You are the music of my life

You are not the food that I need,
You are the nourishment of my soul

You are not my will to survive,
You are my reason for living
It is with you that I experience
the wonders of the world of Sosaria

It is with you that I triumph
over the challenges in my path and in the dungeons

It is your partnership that will lead me
to the fulfillment of my dreams
It is your friendship that guides meas I grow and learn
It is your patience and wisdom
that calms my restless nature

It is through you that I know my true self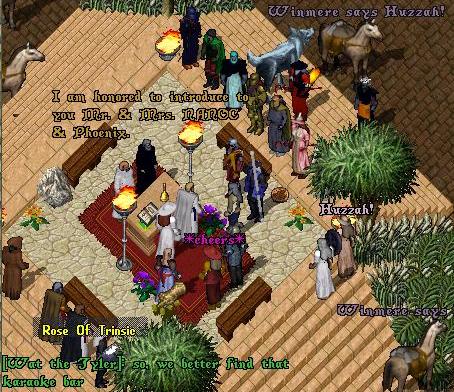 Nanoc And Phoenix Wedding, March 31st, 2007 -

Image Courtsey of RoyalBritGuards.org




I do not take you for granted,
I cherish you I do not need you
I choose you

I choose you today in witness
of all the people who love us

I choose you tomorrow
in the privacy of our hearts

I choose you in strength and weakness

I choose you in health and sickness

I choose you in joy and sorrow

I will choose you, over all others, every day
for all the days of my life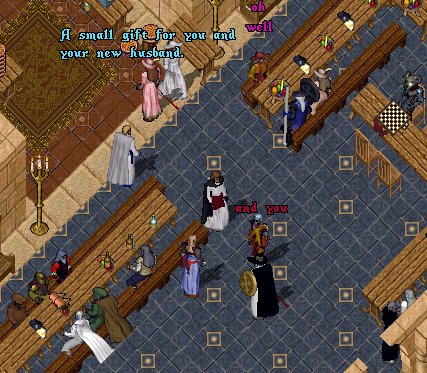 Nanoc And Phoenix Wedding, March 31st, 2007