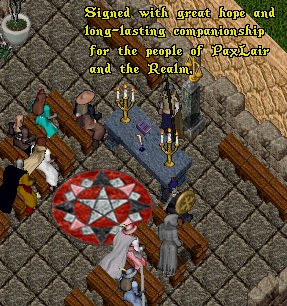 MAGE TOWER, PAXLAIR CITY (FELUCCA), PAXLAIR - January 14, 2007
The PaxLair Statehood was officially established on January 14, 2007 in a grand ceremony atop the historic Mage Tower in PaxLair City. Winfield signed the Book of Statehood in front of leaders of the PaxLair cities along with notable citizens and friends in the Realm.
Winfield read the book aloud before he signed and sealed it. He stood in front of the original PaxLair [Pax] guildstone supporting the symbol of PaxLair -- a balance scale. This particular balance scale was given to PaxLair by the Gatekeeper, a resident of the Underworld.
Holding Golden Rod in his hand, Winfield burned the text into the Book of Statehood for all eternity using ancient flames representing the lives and memories of past Counselors, Seers, and Companions.
Since Winfield leads the Statehood of several cities with their own mayors, he now has the title Governor of PaxLair.
PaxLair cities' leaders at the ceremony included Deputy Viceroy Phoenix of Dragons Watch, Viceroy Sibelius of PaxLane, Viceroy Tatania Karthina of PaxOku, and Viceroy Kerrs Holley of Port Baldmor. More witnesses were Queen Mum of UOForums, Darth Oni, Lady Katherine, Lady Winmere, and the Gatekeeper.
The Book of Statehood is on display at the Mage Tower with copies being given to each of the PaxLair cities when their Viceroys take their oaths of Mayorship from the Governor. Each city mayor will also receive one of the Balances (scales) crafted in the Underworld.
The text of the Book of PaxLair Statehood is copied below:
Statehood of PaxLair

The people of PaxLair do hereby establish the STATEHOOD OF PAXLAIR on this day, the Fourteenth of January in the year of the gods Two Thousand and Seven.
The STATEHOOD OF PAXLAIR is a community of people working together in the spirit of respect, creativity, and the pursuit of companionship.
The STATEHOOD OF PAXLAIR is led by the Governor of PaxLair.
The STATEHOOD OF PAXLAIR consists of Cities led by Mayors.
The people of PaxLair re-affirm the primary Tenets of the STATEHOOD OF PAXLAIR:
- Peace
- Neutrality
- Roleplaying
At the time of this signing, Cities are in the STATEHOOD OF PAXLAIR:
- Dragons Watch
- PaxLair City
- PaxLane
- PaxOku
- Port Baldmor
Signed with great hope and long-lasting companionship for the people of PaxLair and the Realm,
Winfield
Governor of PaxLair