Join PaxLair
Become part of a community dedicated to "players" seeking to take their
Ultima Online experiences many steps beyond "just playing the game".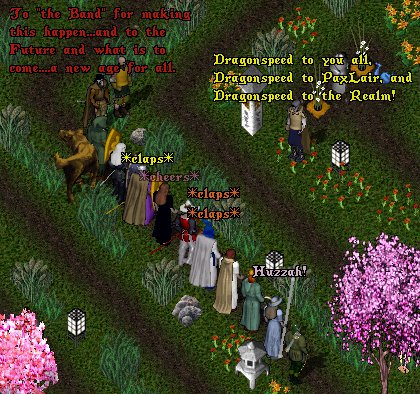 PaxLair's 9th Anniversary Speech (January 19, 2007)
9th Anniversary Article Here
Learn More about PaxLair and its Community Involvement since 1998.

Joining PaxLair is easy. Here's some wonderful and easy options:

PaxLair-wide Weekly Meetings (Tuesdays, 9 PM U.S. Eastern Time) - See each meeting location listed on the UO Forums Chesapeake Calendar. Directions or a Rune is always provided. This is the best way to meet people of PaxLair and tell them all about yourself. NOTE: Every meeting starts with new and returning player introductions!!

Post on the JOIN Thread - Located on the UO Forums-hosted PaxLair In-Char Forum sticky-thread. More information is there to reach various officials via Private Message on UO Forums.
Welcome once again and safe travels across the Realm! We hope to see you soon in one of our cities.

Dragonspeed,
Winfield, Governor of PaxLair Statehood
Last Updated ( Friday, 15 June 2012 )