| | |
| --- | --- |
| What is PaxLair? The Short Answer | |
PaxLair is a Role-playing player-community
on the Chesapeake Shard of Ultima Online
since January 19, 1998.
It's dedicated to players seeking to take their UÏ experiences
many steps
beyond "just playing the game".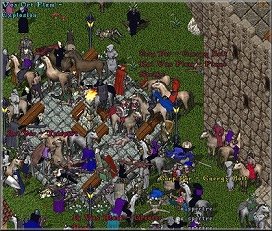 Oh... a community ... yes, wonderful eh?
This was a seer event back in 1999
Cities/Towns:

PaxLair City, Felucca (the historical PaxLair founded in 1998)

PaxOku, Tokuno

Dragons Watch, Felucca

PaxLane, Trammel (dormant)


Outposts:
More Information:

A well-defined and workable Government structure

Each Town with its own Viceroy (Leader)

New people welcome - apartments available in most Towns

Visitors always welcome ... these are towns and cities, not guilds!
Diverse Interests

Combat (PvP)

Adventure (PvM)

Creative Housing Designs

Libraries (Books and Runes)

Museums and History

Competitions (Fight Nights)

Pub Crawls

Auctions

Quests

Diplomacy