PAXLAIR CITY - July 24, 2008
We have not published much information lately on the ethereal PaxLair Site .... sorry about that. BUT, we have a very, very notable event with lots of history!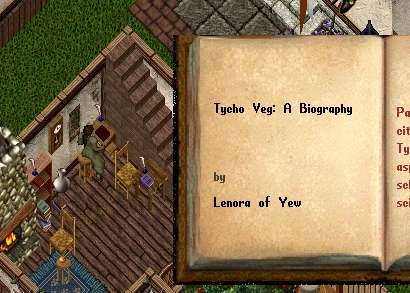 Lenora penning the Tycho Veg Biography
Yes, Lenora has researched and penned a Biography of Tycho Veg, a long-ago citizen and official of PaxLair City well before PaxLair became a Statehood. So this is many years ago, practically to the beginning of PaxLair (ca. 1998).
Tycho Veg was one of then Mayor Winfield's chancellors and the one who also invented the flying machine ... among other contraptions.
Lenora will RELEASE the book to an open BANQUET as follows:
Date: Sunday, July 27, 2008
Time: 8 PM Eastern Tim
Location: Luigi's Cafe behind the Twin Towers, PaxLair City, Felucca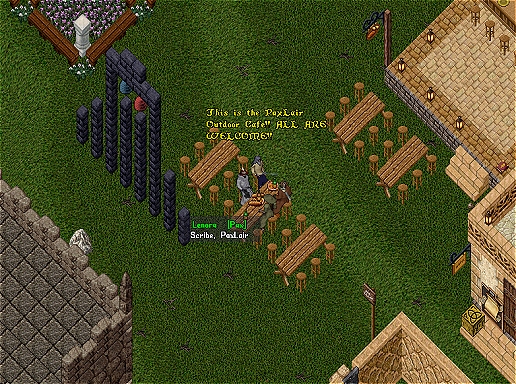 The PaxLair City (Luigi's) Outdoor Cafe
First copies of the book will be available for a mere 100 gold to help in the upkeep of the PaxLair Library in the Mage Tower. See the Library there for many more books of interest!
We hope to see everyone at this event!
Sincerely,
Winfield, Old Man and Governor of PaxLair Statehood