PaxLair Court
Written by Winfield_Pax
Saturday, 01 April 2006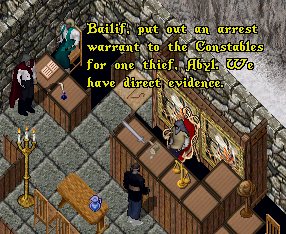 Mayor Winfield issues a warrant after seeing

evidence from Benris

PAXLAIR COURT, PAXGLACEI, MALAS - March 30, 2006

Startling evidence came to the PaxLair Court on Thursday. Benris of PaxOku approached Mayor and Judge Winfield regarding the theft of wine, ale, and food at the last PaxLair meeting.

While the meeting was wrapping up, the refreshments at Port Baldmor slowly disappeared from sight. Eye witnesses claimed they saw a thief in the area, but there were differing accounts of the act.

Benris, however, showed Winfield the news-published portrait of the meeting scene. It was clear Abyl was stealing the drink from the table.

With this clear evidence, Mayor Winfield issued a warrant for Abyl's arrest and to be brought to the PaxLair Court for trial.
Read more...
PaxLair Court
Written by Winfield_Pax
Thursday, 23 March 2006
PAXGLACEI HALL OF JUSTICE - March 23, 2006
Today, Mayor Winfield held his open Court session. There were no cases, but Justine De Fargo approached the bench with a concern. She said that Death Knight Melias was occupying Xavier's body. Two days ago Melias killed himself with a deadly potion at Oda's home, but Xavier's body is what died. But now, Melias is alive again in Xavier's resurrected body and is pretending to be Xavier so he (Melias) can pursue Tatania.
Knowing that Justine may still be under effects of a recent spell that causes madness, Winfield simply ordered that the Constables of PaxLair find Xavier and see if he appears as the normal Xavier or not. Also, the Constables will keep watch on Tatania and the Silent Rose Library for any problems.
Mayor Winfield also welcomed Cannibal Kitten and Lord Altair (*SS* guild) to the court as spectators. Elijah Cross introduced them. They have interest in residing in or working with PaxOku.
PaxLair Court
Written by Winfield_Pax
Thursday, 09 March 2006
PAXGLACEI HALL OF JUSTICE, PAXGLACEI, MALAS - March 9, 2006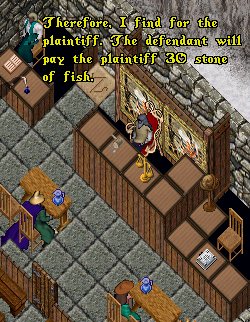 Kalandra of Yew
- v -
Dariann of Dragons Watch
Kalandra of Yew claimed Dariann of Dragons Watch stole her fish in Skara Brae. Mayor Winfield heard the case and decided for the Plaintiff since Dariann had no fishing license (a heavy penalty) and Dariann's story had many inconsistencies. After the 20 minute case, Mayor Winfield instructed Dariann to pay Kalandra 30 stone of fish or its equivalent value.
Mayor Winfield hears small claims court cases every Thursday night at 8 PM ET in PaxGlacei. A rune to PaxGlacei is found at the Silent Rose Library in PaxOku in the top book near the house sign.
Knowledge News
Written by Neo Of Lothlore
Sunday, 02 January 2005
The Ministry of Knowledge front page has been completed. Rest of the subsite should follow soon.
Read more...